Timecloud:
Memory archive where Alzheimer's patients and their families can communicate through memories Date
January 2018 - April 2018

Research Question
How might we encourage younger generations to create more meaningful memories with loved ones affected by Alzheimer's?

Timecloud is an app that younger generations to share and store memories with Alzheimer's patients.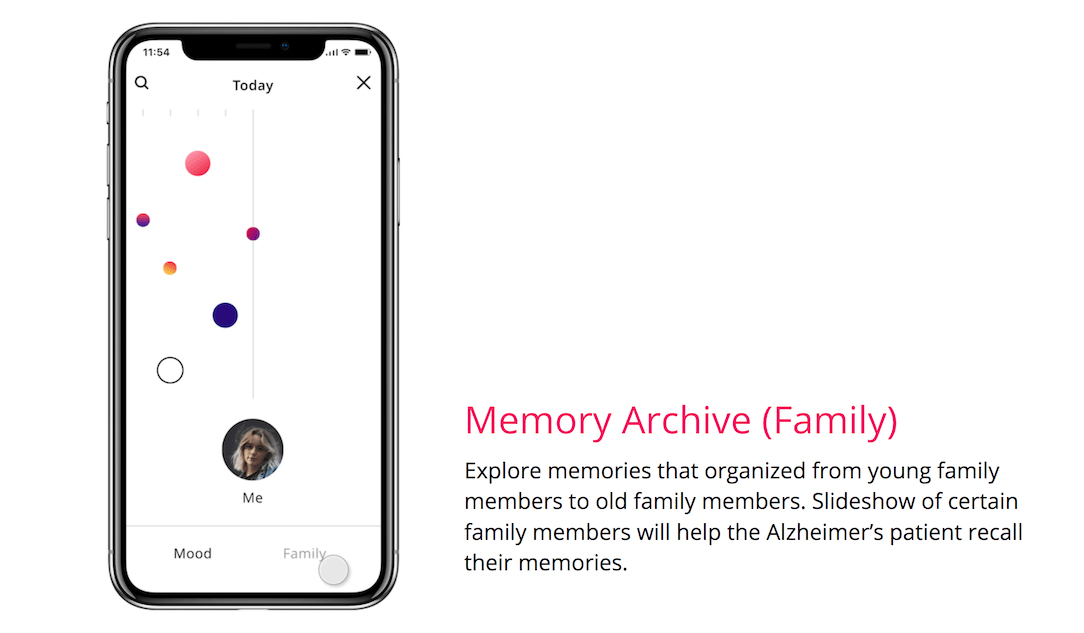 Approach The thesis research started from Andy Rooney's quote. As a product designer who believes design and technology can come together to create the future. I specifically focused on the relationship between senior and technology. After research, I came up with these questions: How might we engage senior citizens in the community? How might we develop solutions for eldely's better communication and social engagement?




Ideation and Iteration
Although seniors have regular access to the internet, they are having trouble seamlessly integrating the possibilities of technology into their lives.

What if we build a community where seniors teach from experience and younger people share their technical skills?


Prototype 1
A web platform that seniors can teach from their experience and younger people can also share their technical skills.



Findings and Iteration:
1. What can I

differentiate

from other

skillshare communities

that already exist?
2. How to make this

more interactive

for older users and deliver

direct help

for their issues.
3. How to make the platform

more engaging

and 'young' for older users, most of whom have

smartphones.




Prototype 2
A tutorial app that improves the quality of life for older adults by empowering them to learn how to use popular applications and websites.



Iteration:
Through prototype 1&2 and user testings, I wanted to focus on solving an issue that related to my own experience. And came up with the subject 'Alzheimer's' which was a disease that my grandfather was suffered before he passed away.

I ended up with this question:
How might we encourage family members to have more meaningful times with loved ones affected by Alzheimer's?


Prototype 3
An app where Alzheimer's patients put photos and writings daily. Uploaded data will be color-coded and saved in a family archive, so the family can always access their memories.



Findings:
1. How can I encourage

more interactions

within the families rather than just showing

patient's memories.


2. Am I solving the

right pain point?


3. Which user should I

target?

Family members or Patient?





Problem

Family members can not overlook the fear that Alzheimer's patients would forget everything they shared together, and this made family members overlook the fact that these would be the last times and memories of the patents.


Solution


A family archive will store every text, photos and interactions they have with Alzheimer's patient and so ease the fear of being forgotten.





Design Process